Mad As A March Hare Tour + Cats
Ben is currently making up some album covers for us so we can sell them at gigs. Wow we'll have actual shit to sell, nice one The Browns.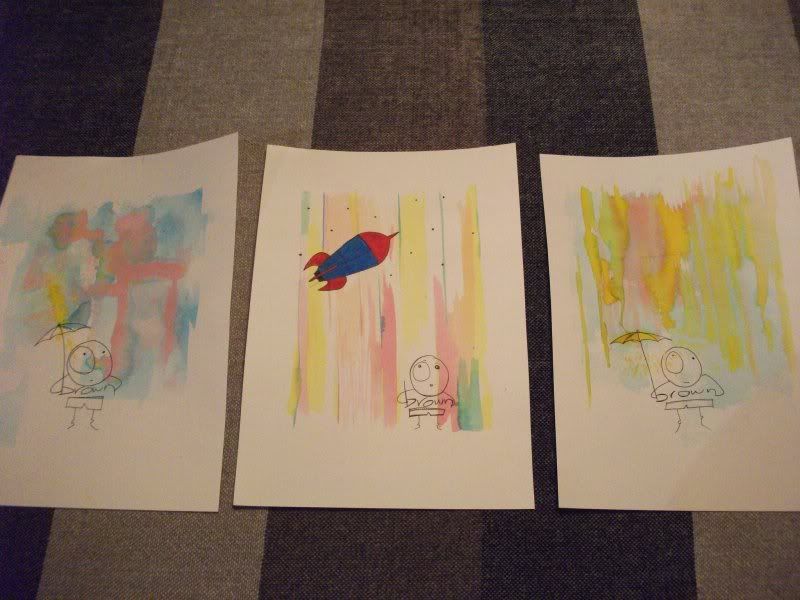 Also, WE ARE GOING ON TOUR OF NZ supporting ALIZARIN LIZARD. Here is the press release, and visit the Facebook event page right here. Will be nice to see you to see you nice if you're at any of these spots.
ALIZARIN LIZARD AND MR YODA PRODUCTIONS PRESENT

MAD AS A MARCH HARE TOUR featuring ALIZARIN LIZARD with support from BROWN

WINTER 2011 (AUG/ SEPT)

ALIZARIN LIZARD: Their debut EP Oh, Colour is due to hit stores around New Zealand this month with the help of Border Music and Banished From the Universe, so in true 'lizard fashion' they are embarking on a lengthy tour. Beginning in their hometown of Dunedin, they will be delivering their intoxicatingly rambunctious live show to more towns than you can shake a stick at. The second single Mad As A March Hare is out now, with an accompanying video by Emma Johansson being released on Saturday 13th August.

If this isn't enticing enough for you, Alizarin Lizard will also be introducing fellow Dunedin band Brown to New Zealand as the support act throughout the tour. Read about Brown and see the full list of dates and support acts below.

Website: http://alizarinlizard.tumblr.com/
Facebook: https://www.facebook.com/alizarinlizard


BROWN: After time spent abroad the tragi-comic, melancholic songs of Michael K Cathro finally make a welcome return to New Zealand shores. Since taking in the sights and sounds from India to Ireland, Brown have written, recorded and released unique handmade albums. With songs such as "Our Love is Like a David Bain Jersey", "King Edward Street" and "Did She Join A Commune?" the music explores themes of dysfunctional love and mankind's relative insignificance delivered with a distinctive, quirky charm. This tour Brown will be promoting their debut album, the self-titled "Brown" and subsequent EP "Mould".

Facebook: https://www.facebook.com/brownonbrown
Listen to Brown here: http://soundcloud.com/brown-on-browne

Management Contact: Logan Hampton - alizarinlizard@gmail.com mobile: 0274605425

August
24th Wed - DUNEDIN - Crown Hotel w/ Idiot Prayer
25th Thurs - INVERCARGILL - Muratangi Scout Camp (Otatara) w/ Soul Manor & Cosy Nook
26th Fri - QUEENSTOWN- Revolver w/ Flaming Drivers & The Outsiders
27th Sat - WANAKA - Opium
30th Tues - FOX - Cook Saddle
31st Wed - FRANZ JOSEF- Blue Ice

September
1st Thurs - GREYMOUTH - Franks
2nd Fri - METHVEN - Blue Pub
3rd Sat - CHRISTCHURCH - The Brewery w/ Psych Tigers
4th Sun - LYTTLETON - Wunderbar
6th Tues - WANGANUI - Space Monster
8th Thurs - THAMES - Mama Gins
9th Fri - AUCKLAND - MUM - Cassette w/ Beach Pigs
10th Sat - AUCKLAND - Khuja Lounge w/ Rackets & Beach Pigs
11th Sun - RAGLAN - Yot Club
13th Tues - OHAKUNE - Turoa Ski Lodge
14th Wed - PALMERSTON NORTH - Royal Hotel
15th Thurs- WELLINGTON - Mighty Mighty w/ Slur Tones
17th Sat - WELLINGTON - 59 Boulcott St Apartment 9b w/ Slur Tones & The Blue Onesies
21st Wed - MAPUA - The Tap
22nd Thurs - NELSON - Baby G's
23rd Fri - BLENHEIM - Dolce bar
24th Sat - KAIKOURA - Strawberry Tree
30th Fri - DUNEDIN - Refuel w/ Mr Biscuits & Axe Handal

Associated Pages:
http://www.facebook.com/pages/Banished-From-The-Universe-records/203459499677185
http://www.facebook.com/pages/Border-Music/332602055299
http://www.facebook.com/pages/Thundercub/82896242886
http://www.facebook.com/idiotprayerband
http://www.facebook.com/soulmanor
http://www.facebook.com/pages/THE-FLAMING-DRIVERS/196413720432
http://www.facebook.com/psychtigers
http://www.facebook.com/pages/Beach-Pigs/122492694483507
http://www.facebook.com/tennisRACKETS
http://www.facebook.com/pages/Slur-Tones/102541893739
http://www.facebook.com/theblueonesies
http://www.facebook.com/MrBiscuitsMrBiscuits
http://www.facebook.com/pages/Axe-Handal-Blade/223765300988405