Hella
So we've had a nice subtle welcome back to Dunedin with a couple of gigs at Mou Very and a chat + live-to-air on Radio 1's the Local.
Thanks to all who attended the gigs, there was good turn-out and it was as fun as playing pétanque with a homeless group partying with all you guys. 
We do have some gigs coming up in the future so keep an ear out and an eye to the ground.  We also have some other reasonably exciting shit coming up so go to our Facebook page if you like and we can update you when we know more. We are looking to record a new EP in the very near future as well as some other guff that is happening will happen.
If you had a chance to listen to Dave and us talking muck on the Local the other night, you might have heard me talking about a link that Michael B Merchant sent me regarding the fornication between Alsation and human that resulted in untimely death in Limerick. Here it is.   
I had a dream the other night I told Ben about. There was a train that was powered by some process involving an obese man who would shoot out of the steam chute(?) and his cheeks would puff out. Then he would land back in it and get sucked down again. This process would continue on and on until the train reached it's destination.
Now I don't know the exact ins-and-outs of how this operation function exactly, but I believe with a little research we can achieve this, and if we can harness this then it really does solve a variety of issues.
Ok, I gotta go and try and find a receipt for some shoes I bought the other day to see if I can take them back as I think I got the size too big. Can I do this? What does the Consumer Guarantees Act say? I bet I won't find the receipt anyway. Fuck it.
Oh yeah, here's an old photo of Brown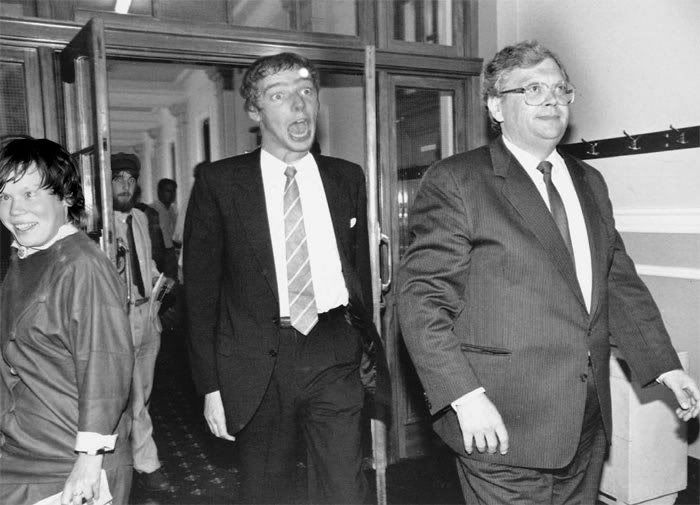 Prost.